The Wine Country Inn is located less than one mile north of Markham Vineyards on Lodi Lane, in the town of St. Helena. The Inn offers luxurious accommodations with individually decorated rooms, which include 20 guest rooms, 4 suites and 5 luxury cottages. They also provide their guests complimentary restaurant shuttle service 6pm – 11pm nightly. If you seek the serenity of the Napa Valley region, let the Wine Country Inn's ambience provide the relaxation and tranquility desired. It's the perfect Napa Valley romantic getaway!
Napa Valley Lodge is located in the charming town of Yountville approximately 12 miles south of Markham Vineyards. The Napa Valley Lodge welcomes you with a friendly and experienced staff that is committed to making your stay as special as possible. Each morning, a complimentary Champagne Breakfast Buffet is set up where guests can enjoy a host of morning favorites including gourmet pastries, fresh fruits, bagels and cream cheese, yogurt, juices, teas, coffee and more. Tea and cookies are served every afternoon in the lobby and a wine tasting, featuring local wineries, is held every Friday evening.
If you live here in California, you already know we are subject to water usage restrictions. We are on our fourth year of below normal rainfall. Our estate vineyards' weather stations show us we've had six inches more rain than last year and we could still get a drop or two more if we're lucky. With the passing of Mother's Day, I think I can safely say that we are free from fear of frost damage.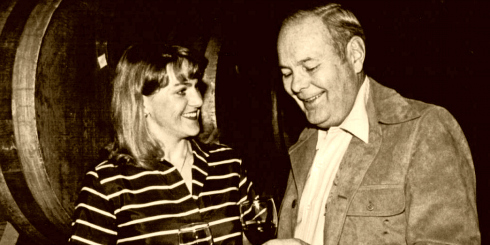 Markham Vineyards' founder Bruce Markham, a native of Colorado, was born in the early 1930s. To add some perspective to the era, this was only a few years before prohibition was repealed! Over his formative years, Bruce was involved with the family's outdoor advertising business. For 35 years he helped develop and expand the company's growth into seven western states. Ready for a change, Bruce sold the corporation in 1976. He then embarked on his second career path right here in the heart of Napa Valley's wine country.
The May shipment has left the winery and the wines will soon be yours to enjoy! Included in this shipment, and just in time for the warmer weather, is the refreshing new Rosé. You will note that the Rosé is a dry, non-sweet wine, with a crisp quality that entices those with a penchant for pool-side wine consumption. Also included in both the Rock & Roll and Estate Club is the ever popular Cabernet Sauvignon. The Cabernet Sauvignon's fruit was picked from the very fine 2012 vintage!